Philadelphia
College Prep Roundtable
"Investing in Professionals and Advocates that
Invest in Student Achievement"
            Professional Development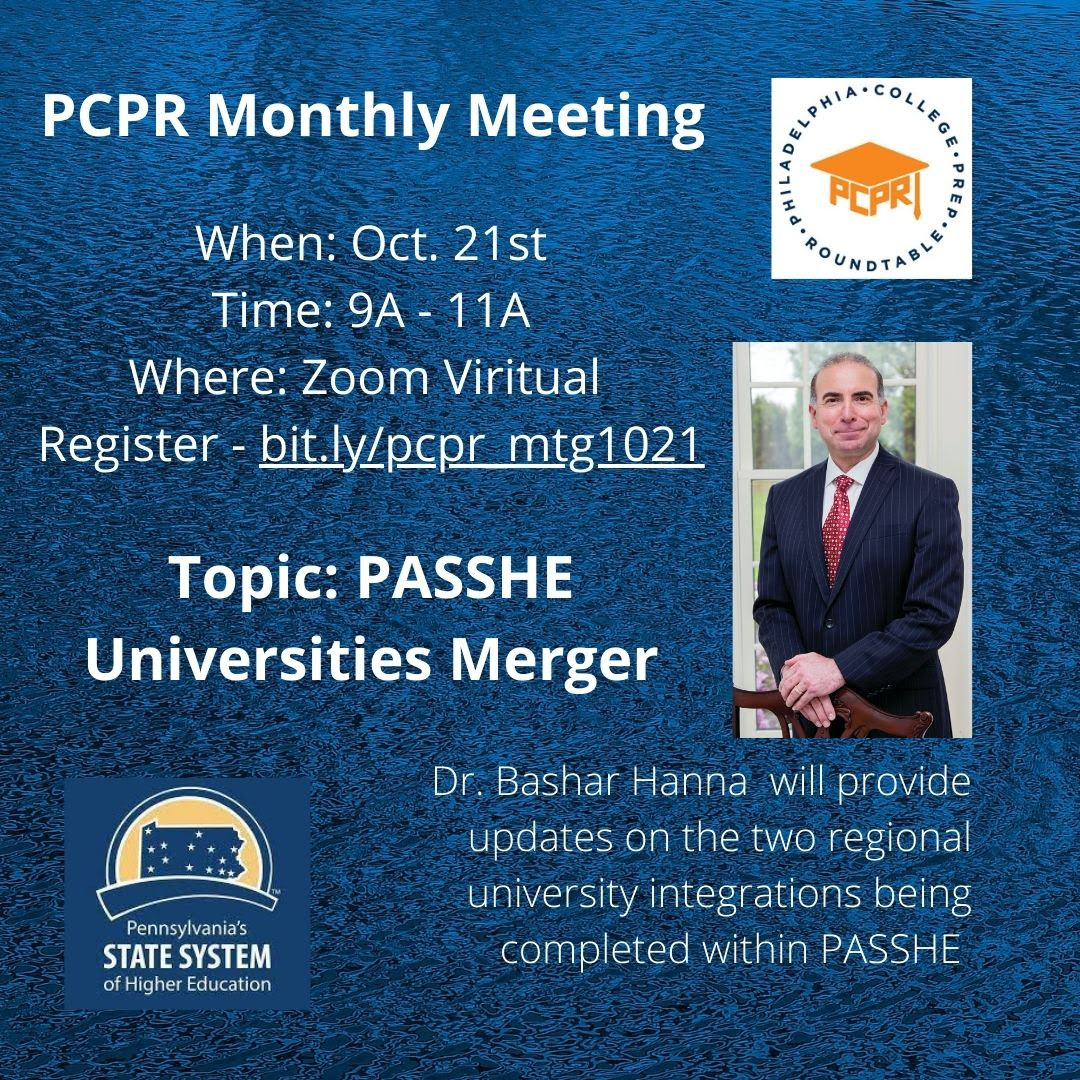 (Click the image to go to the event registration)
Dr. Bashar Hanna, President of Bloomsburg University who is charged with managing the integration of the three (3) PASSHE universities in eastern PA (Bloomsburg, Lock Haven and Mansfield) will be presenting at our October 21st, PCPR Network Meeting.
The impending integration of sic (6) institutions into two (2) will undoubtedly impact the universities your students would choose to attend. You and your students need to know in terms of admissions and financial assistance, academic program offerings and college completion.
Join us to hear about these important and issues and have your questions answered concerns addressed.   Register your attendance at https://bit.ly/pcpr_mtg1021.
========================================================
---
Workshops and Training Opportunities for College Access and Success Practitioners 
(PCPR Members -special discount for NCAN events. Forward a message to contact@collegepreproundtable if there a cost for the webinar.)
(Workshop titles are hyperlinked to providing organization for more details as it pertains to "what", "when" and "where".)
If you've not attend any of these offered workshops and/or haven't attended in a while it is strongly recommended you do so with the changes in many processes since the pandemic.
Fall College Fairs
(Workshop titles are hyperlinked to providing organization for more details as it pertains to "what", "when" and "where".)
College Prep Roundtable
#Onward, #Upward 
---
PCPR is one of 14 nonprofits to receives Wm Penn Foundation "Racial Equity Grant Funds". The grant primarily supporting education-focused organizations led by, and serving, people of color. Read more at the Wm Penn Foundation Newsroom.
---
                                   PCPR Advisory Council
PCPR Advisor, Dr. Crystal Newby has accepted a new position with the College Board as the Senior Director of Strategic Admission, Access and Diversity Initiatives.
---
(Click the image to view the announcement)
---
PCPR Membership
As of August 1, 2021, the membership year has started. Renew or get your membership today! Institutional memberships include up to 4 individuals and organizational benefits.
Membership levels and details for joining can be found at http://collegepreproundtable.org/memberinfo/. Get connected!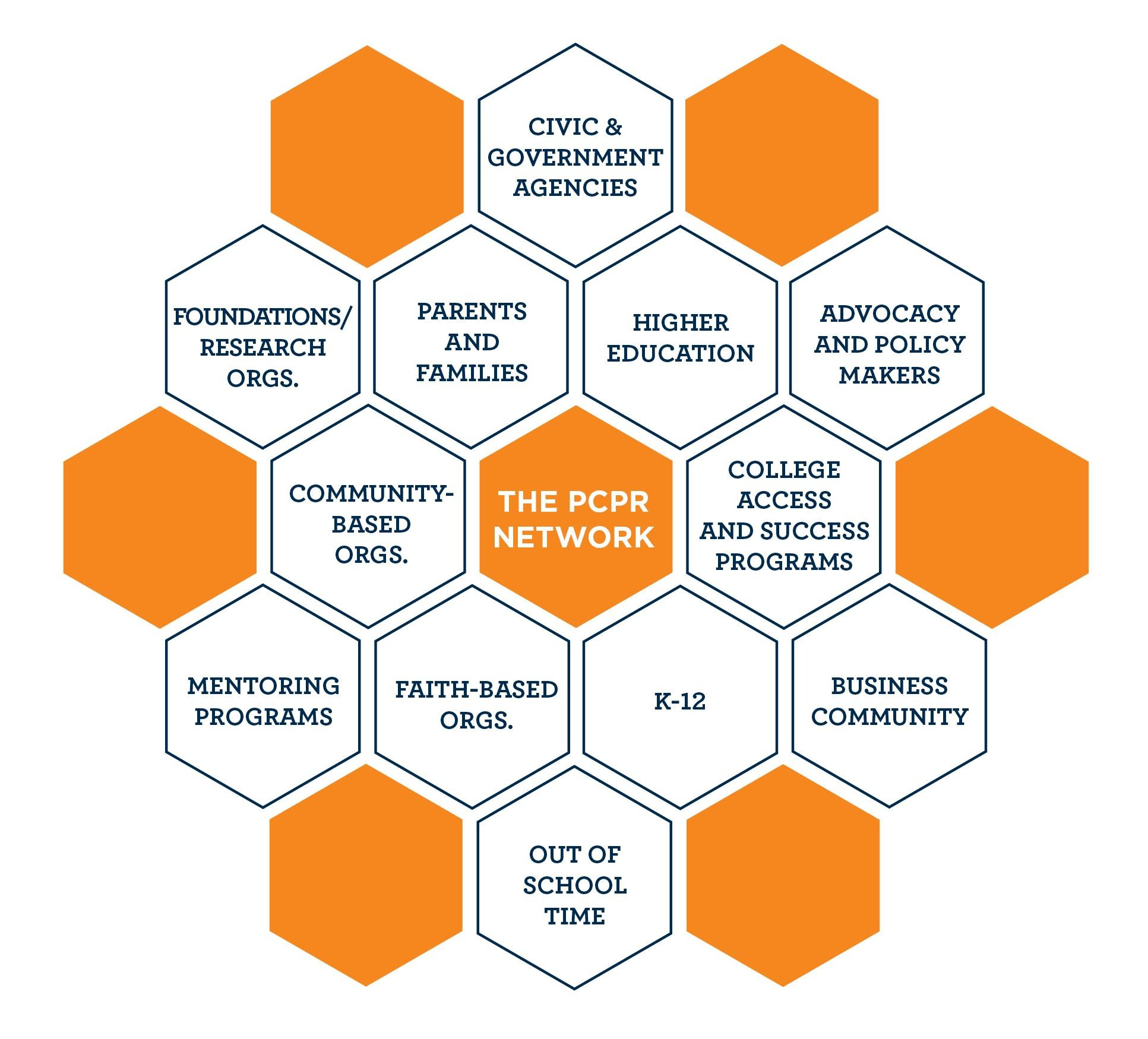 ---
Volunteers Needed
PCPR has several Committees needing volunteers assist with the organization's operation. They include:
Advocacy and Policy

Communications

Conference – Forum Planning

Membership

Monthly Network Meeting

PR and Marketing

Professional Development

Research and Data
If you're interested in any of these committees please complete the form at bit.ly/pcpr_vol_signup
---
More PCPR Information on Video 
PCPR's Youtube Channel is beefing up. We're putting more content and past PCPR network meetings on the channel. Additionally, we'll be featuring the sessions from this past PCPR Forum (Feb, 2021).
Subscribe to our page at https://bit.ly/pcpr-youtube.
Let us know what you think. Send your thoughts and comments to contact@collegepreproundtable.org.
"We Encourage Sharing the Wealth", "Knowledge is Power"
======================================================================
FSA partners are using innovative programs, creative events, and effective initiatives to help facilitate financial aid awareness, increase Free Application for Federal Student Aid (FAFSA®) completion, and assist borrowers with repayment. Each month we showcase and celebrate the best practices from select partners of specific communities.
November Theme: Urban Initiatives
This month will feature partners who hosted innovative programs, events, and initiatives for their entire state.

The Philadelphia College Prep Roundtable
provides tools, resources, and opportunities for conversation; support leadership development in the field; and seek to bridge the gap between policy, research, and practice.